Today was the first day of the rest of my year.
Sure, I've been on summer break already, and it's been excellent. It's always excellent. Speaking of which, have you heard this one?
Question: Name three reasons to become a teacher.
Answer: June, July, and August.
Funny, right? But today, September 1st, I would have normally returned to school for professional development meetings. And guess what? I didn't go.
Instead, I have the next twelve months to live the dream as a full-time writer. It's called sabbatical. Awesome, I know. But before you imagine me lying around the house in my pajamas—though odds are good on that—I should mention that I have plans. Big plans. Big.
First, I will be continuing to write, edit, and publish the Sugar Sun series, and you can't stop me. Rosa's novella, Tempting Hymn, will be out this fall. The two other main books in the series, Sugar Moon and Sugar Communion, will follow. I may not be fast, but I want to get the books right, which means a lot of rewrites and even more editing. If you would like to find out when I actually publish them, please sign up for my Sugar Sun newsletter. Thank you!

Second, I will be giving my Researching Micro-History workshop this fall at Fiction Fest 2016 (September 9-11) and at the Rhode Island Romance Writers' meeting on October 1st. The workshop is one third Ted-Talk-ish explanation about making true history write the best fiction, and two-thirds research tips, sites, and how-tos. It's not just for historical writers, either.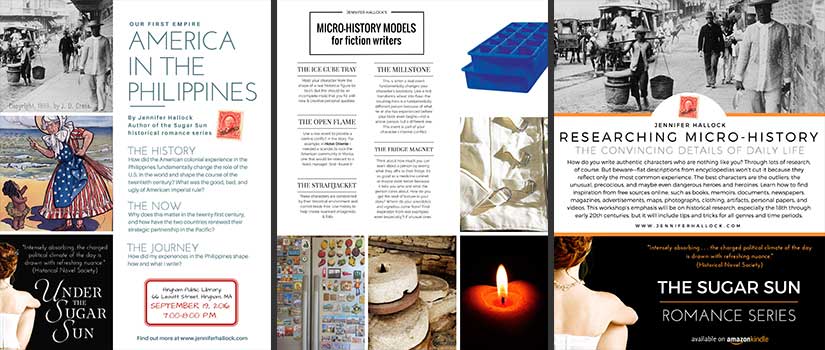 Third, I will be giving my "America in the Philippines: Our First Empire" talk at local libraries—and anywhere that anyone with a projector wants to hear it. Here's the pitch: "Hotly contested stump speeches on transpacific trade, immigration, and Muslim separatists aren't new to American political discourse. Join historian, teacher, and author Jennifer Hallock to learn how our first experiment in overseas empire in the Philippines (1898-1946) still shapes our country now." You want to hear more? I will be at Hingham Public Library on September 19th, so come check it out.
Fourth, I'm on the planning committee for the 2017 NECRWA Let Your Imagination Take Flight conference (check out our Facebook page!). It's already been fun to plan, and I hope to see everyone there. Look at those featured authors! And that's just the beginning, trust me. There will be a book signing on Friday, April 7th—so readers, put that on your calendar.
For the other conferences I'll be attending, see the updated schedule below:
Finally, Mr. H and I are going to travel. I especially look forward to the Philippines in February—because February in Manila is soooo much better than February in New Hampshire. And it's going to be awesome to finally meet some of the people I talk to daily on the interwebs—as well as seeing all my old friends again.
Also on the docket is a trip to Scotland, maybe returning on a trans-Atlantic cruise—very old school. Until then, I will be here on the farm, playing Pied Piper to a flock of chickens. Seriously, they follow me around. And I have three baby chicks right now, too. Adorable.
Here's to a great year! Let's get writing…