("Mabuhay" means "long live!" and "welcome.")
The best thing to come out of writing my Sugar Sun series—other than getting these characters out of my head and onto the page—has been connecting with the #romanceclass community. This is a group of Filipino contemporary, new adult, and young adult authors brought together by the indie publishing pioneer, Mina V. Esguerra (@minavesguerra).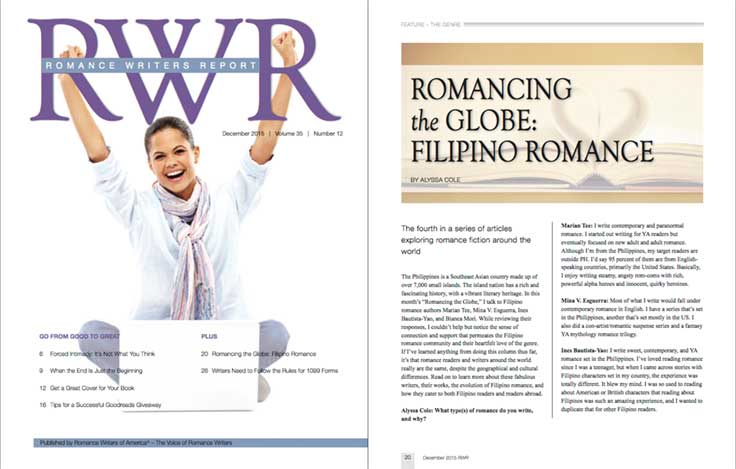 When I first picked up the December 2015 issue of Romance Writers Report, it hit me right in the face: "Romancing the Globe: Filipino Romance," by Alyssa Cole (@AlyssaColeLit). Cole profiled four authors: Esguerra, Marian Tee (@authormariantee), Ines Bautista-Yao (@Inesbyao), and Bianca Mori (@thebiancamori). I cold-called all of them (or "cold-Facebooked"…whatever), and they were soooo nice. They spread the word in their very well-connected web of writers and readers and, all of a sudden, I had a network of people who understood why I was so obsessed with a Filipino sugar baron and an American schoolmarm. (And a priest, too, but he's book three. That apple will take some time to fall from the tree.) I also developed a very long TBR pile, at which I am still chipping away.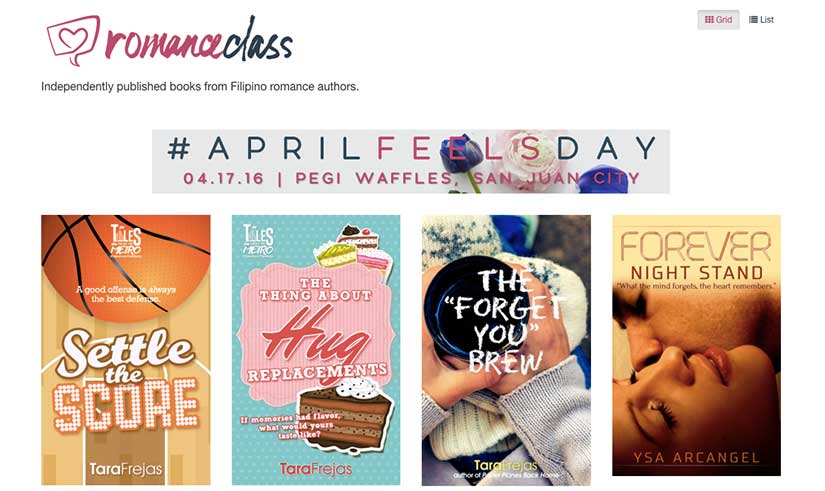 Just because these writers are nice, though, don't underestimate their ability to get things done. Just as five women founded RWA in 1979, so Esguerra created #romanceclass in 2013. Eleven of her first 100 students published full-length novels. Soon #romanceclass grew into a lifestyle. The group now puts together classes, publishing support, podcasts and videos, book fairs, book launches, live performances, a stock photo service, meet-ups (last Sunday was April Feels Day), book signings, poetry readings, and so much more. Mina has even organized a full scholarship for 12 students at the Philippine Normal University! (She meant to sponsor two, but generosity from the larger #romanceclass community rounded that number up to a full dozen.) In the midst of organizing all this, Mina manages to write, as well. I'm not sure how, but here's a Dear Author review to prove it.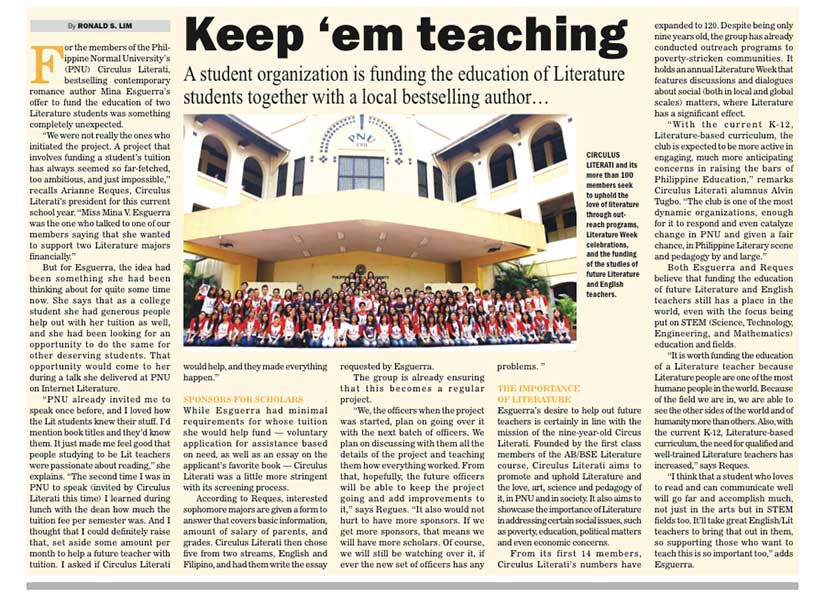 With American readers clamoring for more diverse reads, I wanted to spread the reach of these talented writers. For some, their primary market is already in the United States, but you may have missed a few of the others. And, if so, you are missing out. To prove that, with the generosity of #romanceclass authors, I've assembled a Mabuhay Love basket giveaway at the New England Chapter of RWA's Let Your Imagination Take Flight Conference next week! That's April 29-30, 2016, at the Boston Marriott, in Burlington, Massachusetts.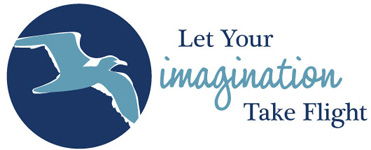 Here is what it includes (so far):