Resistance romance has gone global. It makes sense: idealists everywhere are being squashed under the steamroller of corporate and government interests. Women suffer silently in "toxic workplaces that reward mediocre men," to quote Naya Llamas, the heroine of What Kind of Day. These women need their HEA, too.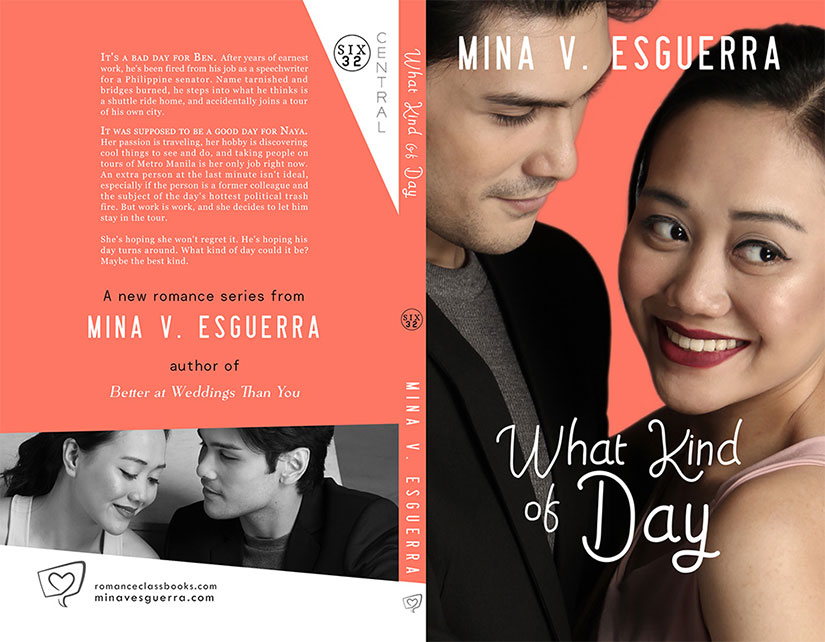 Take note, though: there will be no alpha billionaire to save the damsel in distress here. The "damsel" in question, Naya, is not in distress. In outrage? In frustration? Those are closer to the mark. Naya would tell Mr. Billionaire to fuck right off, thank you very much. In fact, her "rage-quit" speech to her former boss (which she recycles on a sitting Philippine senator!) would send a lesser man spiraling into his own mid-life crisis. Naya needs a fellow idealist hero with a hot bod and a quick mind. Enter Ben Chaco, Esquire: a former speechwriter for the aforementioned senator. Ben is in a mid-career crisis somewhat of his own making, but mostly not. And he has hot abs.
Naya has an "income-generating hobby" running boutique culture tours under the name of See This Manila. Naya's video background has helped her carve out a presence online, and her customers pay a premium to be shown her favorite exhibits, the best sunsets, and the most unlikely ice skating shows. When stuck in Manila's notorious traffic—which, yes, is really that bad—she dispenses "mentory" advice to her younger admirers (and to Ben, who has literally jumped into her van).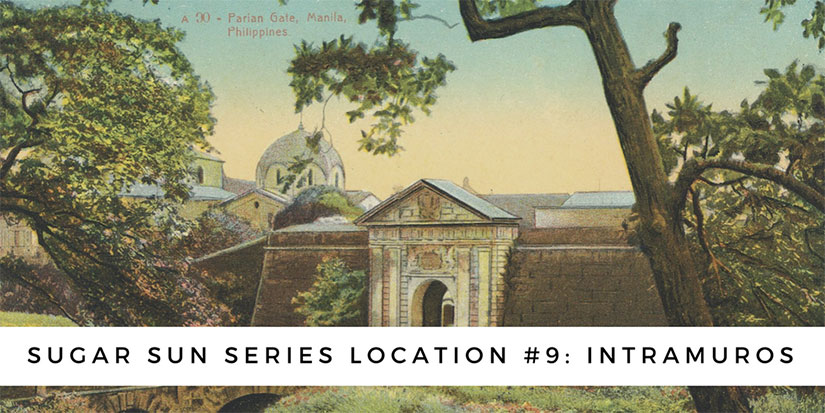 I loved the tour guide (and trip fling) theme of the book, and you do not even have to know Manila to appreciate the places she takes her customers. And, if you do know Manila, the book forces you to reconsider your view on the city.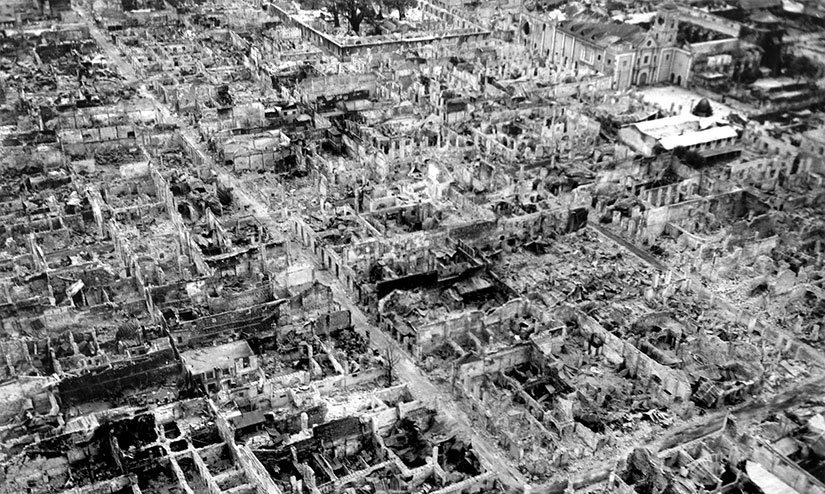 Remember that Manila was once the "Pearl of the Orient," and what has happened to it since is not entirely its fault. You knew there would be a historical aside to this review, didn't you? Well, this is my blog, and I am a historian so deal with it. The Americans bombed the city to bits in 1945—the necessity of which is still debated—and they did not stick around long enough to rebuild it. Instead, they gave the Philippines its independence in 1946, on schedule, and left.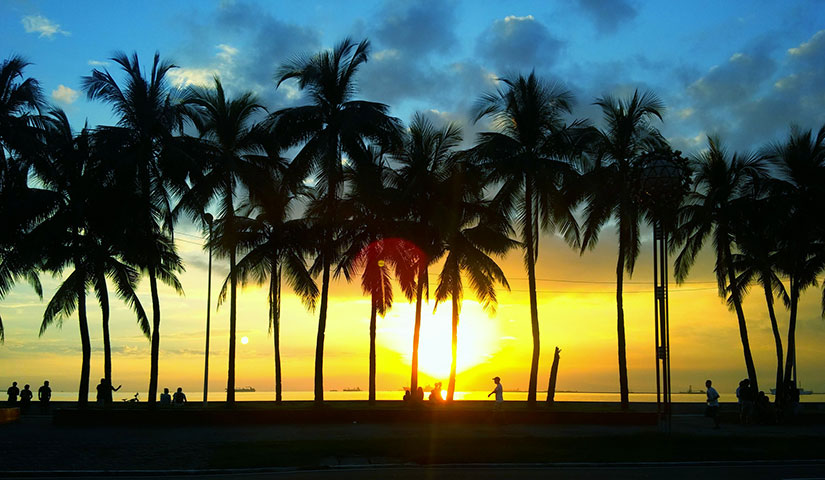 Mismanagement since 1946 is a long and political story, and this part of Naya's struggle. She rage-quits her job in official tourism because she wants to show the real Manila to foreign heads-of-state:
"So I quit because I was deployed to do touristy videos during one of the summits. And I wanted to be assigned to Manila, because I thought it would be a good chance to show the inequality, what life is really like even on the days when they don't hide the shit from delegates traveling from the airport to wherever. I thought if I did it with some compassion, and with help from the communities themselves, I'd be able to create something and the summit would be the right platform for it. Because that's what it's for, right?"

"Oh, God," Ben said, realizing where this was going. "You had a dream, too."
Yep, What Kind of Day is the story of two dreamers. It is quintessential Mina V. Esguerra—and yet it is also enough of a departure to justify a new series. Let's start with the latter. According to the author's website, Ms. Esguerra did not wish to redeem the anti-hero anymore. (But she does it so well! Love Your Frenemies is one of my absolute favorites of the Chic Manila series.) True to the author's intentions, Naya and Ben are both uncompromisingly honest, good people throughout the book—and what a relief!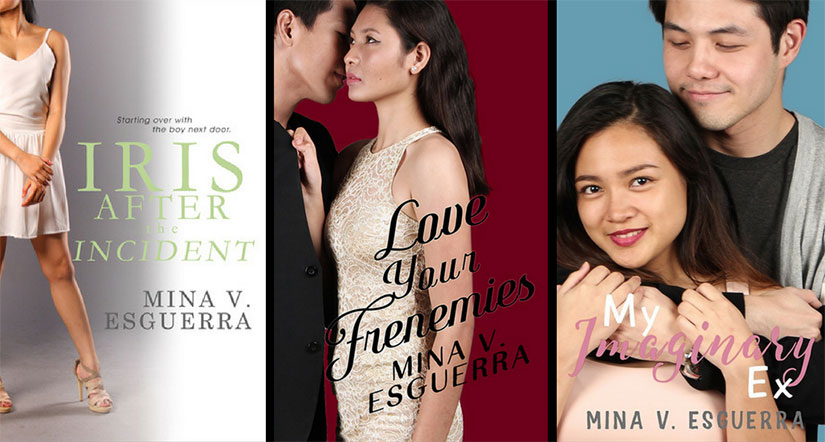 Of course, this is also exactly what makes the book fit into the MVE opus so well. Ms. Esguerra takes two people who have been burned—and burned by a similarly cruel aspect of the world—and helps them find each other. To me, this has the same feel as Iris After the Incident, which you probably know I loved. (Also, Iris is going to be released as an audiobook sometime in the near future. Yay!)
Okay, Jen, but what about the sex? The sex is also classically MVE: hot, memorable, and perfectly suited to the characters. It is a little odd to say "classically MVE" since Ms. Esguerra began by writing closed-door romance, but her recent books have all had very sensual, very imaginative love scenes. Naya and Ben's first time could be a workshop in making consent and sex-positivity zing—which, frankly, I think is just the point in a book that is about fighting the Old Boys Network. It is perfect.
Finally, as with all the #romanceclass books I have read, What Kind of Day is a smart, fast-paced, beautifully-crafted novel. This book is both on brand and a trend-setter at the same time. I would recommend it to romance readers (M/F dual-POV with strong HFN), women's fiction readers (strong growth arc in take-charge heroine), and general fiction readers (because, honestly, it's just a freaking good book, no matter what you like to read). Enjoy!