Javier approached her, but she was too engrossed in her study of the food to notice. He positioned his chin behind the nape of her neck. "Bodbod," he whispered.

Georgina spun so fast that she lost her balance. Javier steadied her before she could crash into the table and ruin the peddler's week of hard work. She recovered, though he suspected her heart was racing. She pulled her wrist away from him before he could count the beats.

Javier handed some change to the vendor and took the sweet in question. "Bodbod," he explained. "It is made of sticky rice and chocolate. Here. You will like it."

She tore off a small piece and held it up for further inspection.

"Really," he said, trying not to laugh. He counted off the ingredients on his fingers. "Rice, coconut milk, sugar, salt, and chocolate. No tricks, I swear."
— From Under the Sugar Sun
Needless to say, Georgina liked the bodbod. I mean, what's not to like? Sticky rice with mango alone was responsible for a fifteen-pound weight gain back when I was 19. Add chocolate to that mix? I'm a goner.
I was inspired to write this post because Suzette sent me a picture of a the Budbud-Kabog stall in Legazpi Market in Makati, and I got all jealous, like Fifty Shades of Green. And the owner is from Bais! And he has sugar baron stories! I've got more research to do…checking PAL fares now.
Anyway, bodbod was one of the highlights of my research trip to Bais, Tanjay, and Dumaguete. Apparently, I'm not the only one: Andrews Calumpang wrote a song about the delight, entitled "Ang Budbud sa Tanjay." Tanjay even has a festival to bodbod every third week in December, where they make the world's biggest bodbod (80 kilos) and the world's smallest (fits in a matchbox).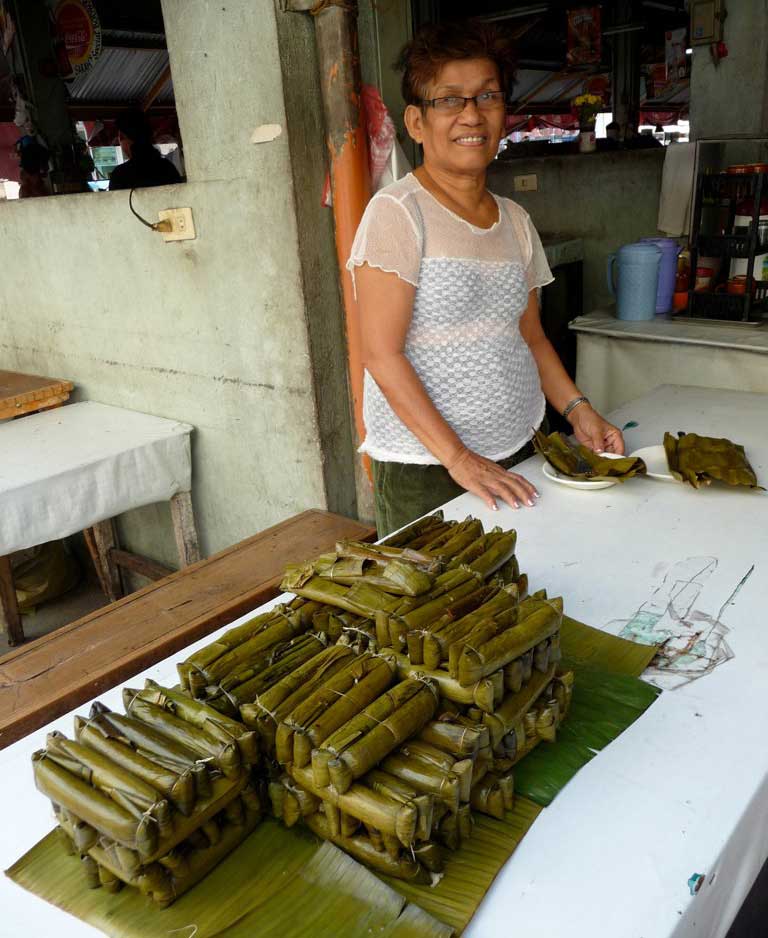 If you're new to street food, you'll notice the eco-friendly banana leaf packaging. Given my fight to extricate new earbuds out of their blister pack this morning, I think we should sell everything in banana leaves. According to Choose Philippines, the antibacterial properties of the coconut oil will keep the bodbod fresh for a week.
All signs point to bodbod! Fate wants me to eat all the sweet treats. It's destiny!