The Sugar Sun series is an epic family story of love and war at the beginning of the twentieth century. Books may be read in any order, as all are interconnected-yet-standalone happily-ever-afters. Read what people are saying about the series here, and find content guidance here.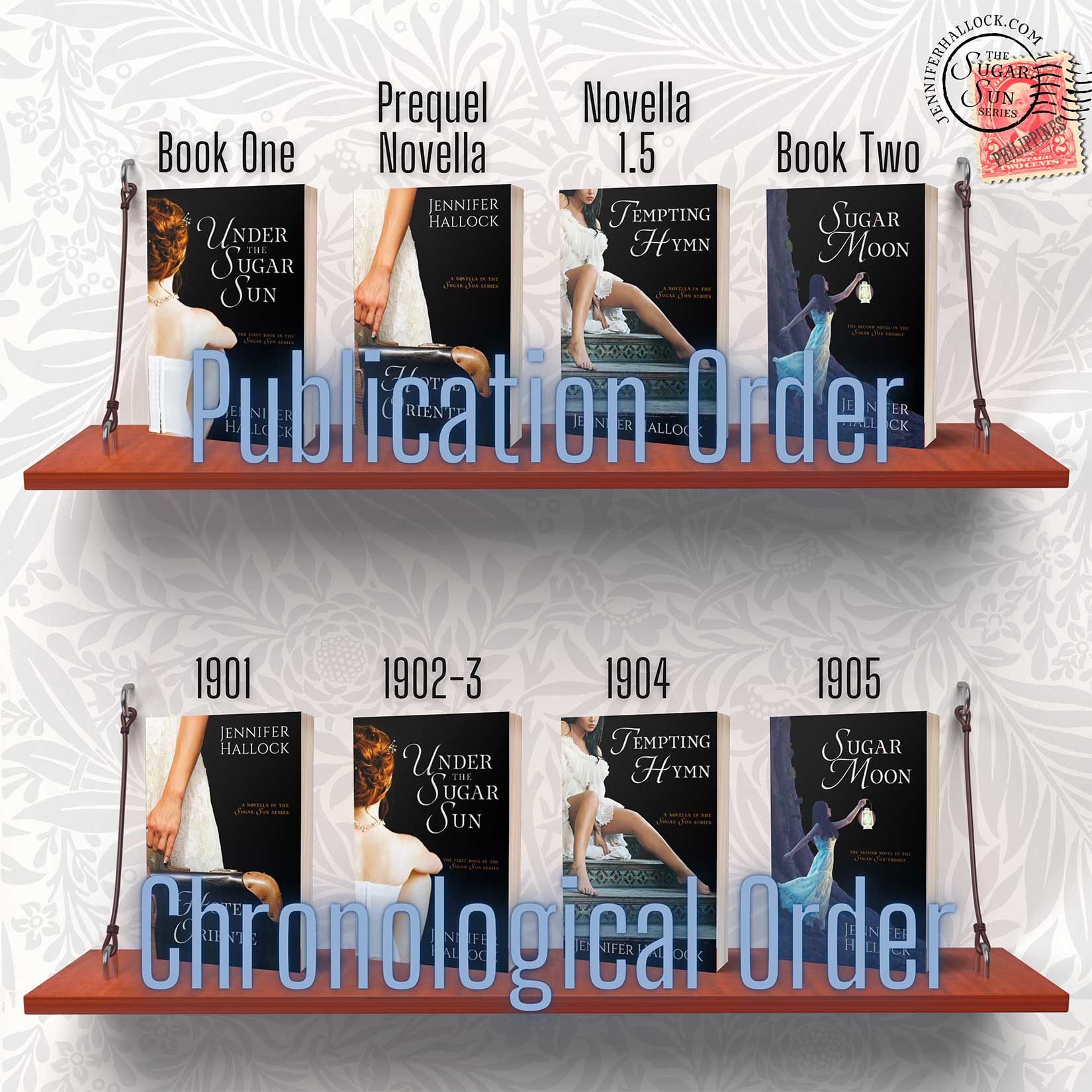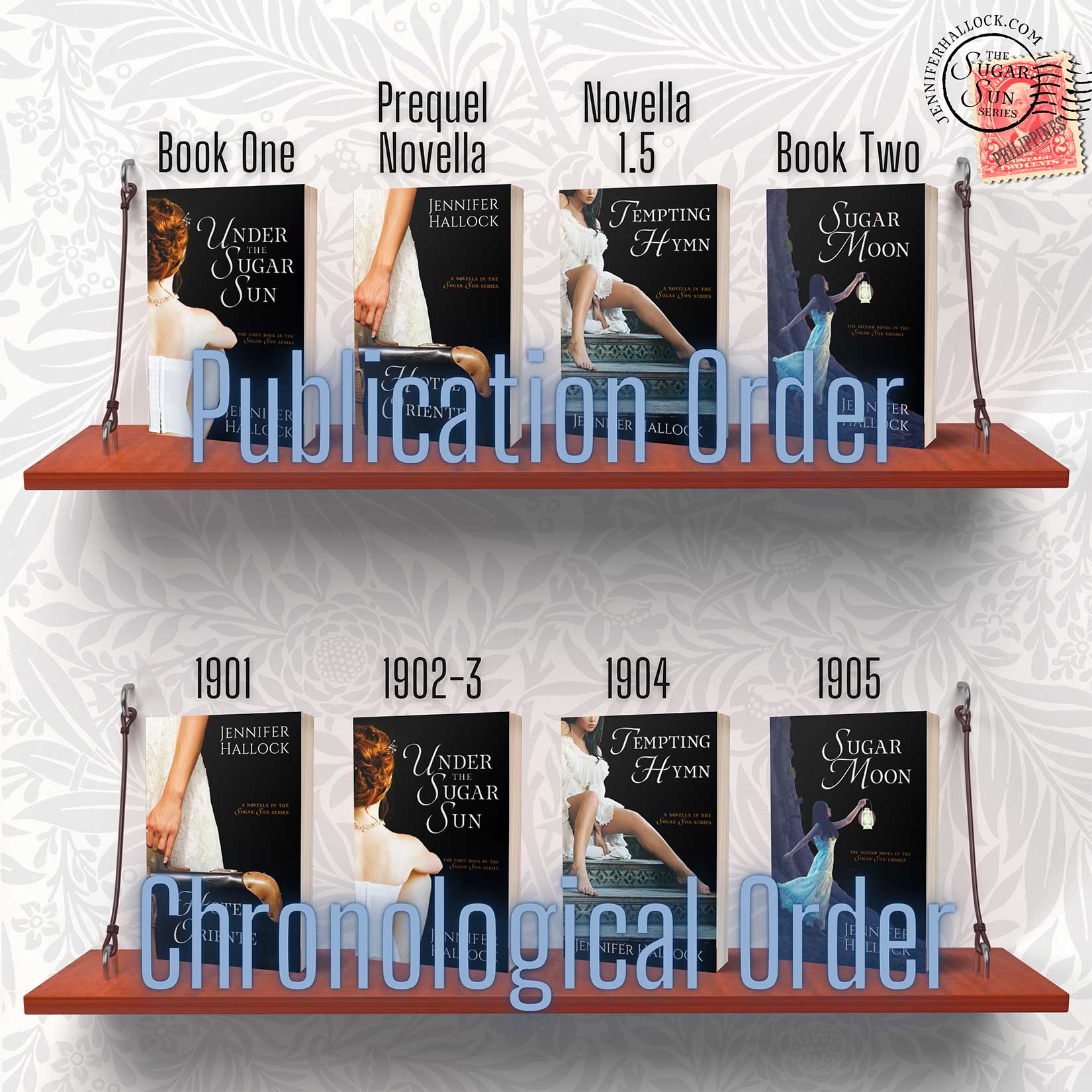 ---


A schoolmarm, a sugar baron, and a soldier . . .
It is 1902 and Georgina Potter has followed her fiancé to the Philippines, the most remote outpost of America's fledgling empire. But Georgina has a purpose in mind beyond marriage: her real mission is to find her brother Ben, who has disappeared into the abyss of the Philippine-American War.
To navigate the Islands' troubled waters, Georgina enlists the aid of local sugar baron Javier Altarejos. But nothing is as it seems, and the price of Javier's help may be more than Georgina can bear.
Find Under the Sugar Sun at Amazon.com, or read what people are saying about the series.
---


The Oriente is the finest hotel in Manila . . . but that's not saying much.
Hotel manager Moss North already has his hands full trying to make the Oriente a respectable establishment amidst food shortages, plumbing disasters, and indiscreet guests. So when two VIPs arrive—an American congressman and his granddaughter Della—Moss knows that he needs to pull out all the stops to make their stay a success.
That won't be easy: the Oriente is a meeting place for all manner of carpetbaggers hoping to profit off the fledgling American colony—and not all of these opportunists' schemes are strictly on the up-and-up. Moss can manage the demanding congressman, but he will have to keep a close eye on Della—she is a little too nosy about the goings-on of the hotel and its guests. And there is also something very different about her . . .
Find Hotel Oriente at Amazon.com, or read what people are saying about the series.
---

A Missionary and a Sinner . . .
Jonas Vanderburg volunteered his family for mission work in the Philippines, only to lose his wife and daughters in the 1902 cholera epidemic. He wishes his nurse would let him die, too.
Rosa Ramos wants nothing more to do with American men. Her previous Yankee lover left her with a ruined reputation and a child to raise alone. A talented nurse at a provincial hospital, she must now care for another American, this time a missionary whose friends believe her beyond redemption.
Find Tempting Hymn at Amazon.com, or read what people are saying about the series.
---

The nights were their secret . . .
The papers back home call Ben Potter a hero of the Philippine-American War, but he knows the truth. When his estranged brother-in-law offers him work slashing sugarcane, Ben seizes the opportunity to atone—one acre at a time. At the hacienda Ben meets schoolteacher Allegra Alazas. While Allegra bristles at her family's traditional expectations, the one man who appreciates her intelligence and independence seems to be the very worst marriage prospect on the island.
Neither Ben nor Allegra fit easily in their separate worlds, so together they must build one of their own. But when Ben's wartime past crashes down upon them, it threatens to break their elusive peace.
Find Sugar Moon at Amazon.com, or read what people are saying about the series.
---

This is Andres's book (aka #UndressAndres) and you can read about my progress in researching his world here. There is a lot of medical history I have learned for the heroine, a doctor. That research has been partly through reading but primarily through podcasts.