Pressed against Javier's arm as they waited for the band to begin, Georgie studied his barong tagalog. It was simple ivory with a plain collar—elegant and traditional—not dyed or striped or ruffled. He had also chosen geometric embroidery over floral. Still, it was not a modest garment. Though the piña felt sturdy and substantial where it brushed her skin, it was so sheer that it displayed his snug undershirt with remarkable definition.

"Why wear a shirt so thin that you need a second layer?" she asked, eyes fixed where his short sleeve revealed some bicep. "Isn't that hot?"

One eyebrow shot up. "It depends with whom I am dancing."
Oh, Javier.
But he's not entirely wrong. There is a rare intersection of sexy and convenient going on here. The barong tagalog (the "Tagalog shirt"), or just barong, is the formal garment for men in the Philippines. No tie. No tucking the darn thing in. What's not to like? At least, that's my husband's attitude. He actually went to fancy dress parties and weddings in Manila, as a result. He's even worn his here in the States.
He doesn't look this good in his—shhh, don't tell him—but he looks pretty good: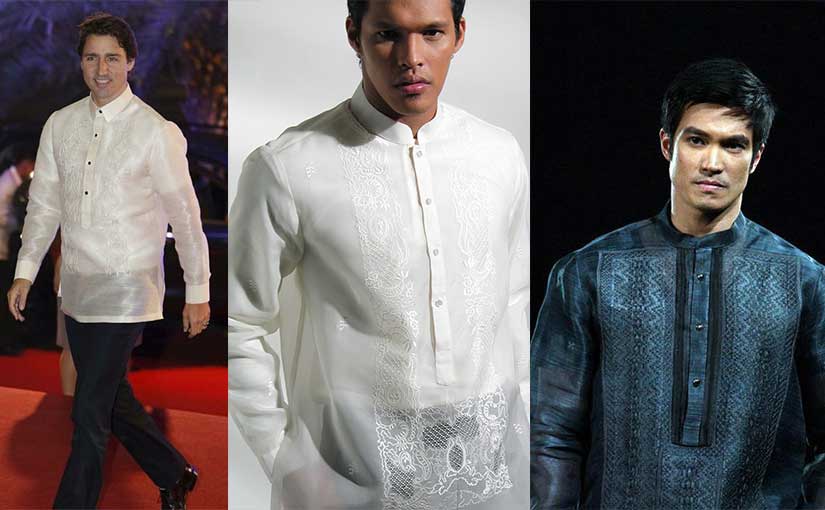 If you do a little research on the barong, you'll run into an urban myth—at least, from what I could find, it is an urban myth. I'll let Javier tell it:
He flicked the loose tail of his shirt. "I've always been told that the Spanish required the indios to wear these so we couldn't hide our daggers underneath."

Georgie wondered if these islands had ever known peace. "Is that true?"

"It's certainly the kind of thing the Crown would have done, but there's no specific law anyone can point to." Javier paused, his brown eyes studying her. "It makes a good story—and at Spanish expense, too, which makes it even better—but in truth the barong is probably all Filipino. Do you like it?"

Georgie looked up the shirt line and across his chest. "I do."

He leaned down and whispered in her ear. "I would wear anything to catch your attention, Ina. Or nothing."
You can find some historic examples of barongs at my Pinterest site on traditional Philippine dress. And if you keep digging, you'll find there's lots of variety: ruffles, fabrics, cuffs, length, and more. Some have floral designs, and others geometric. Some are dyed, others are natural piña. All look pretty terrific on a handsome man, though, and isn't that all we want in the end?
Featured image by Angel N at Flickr.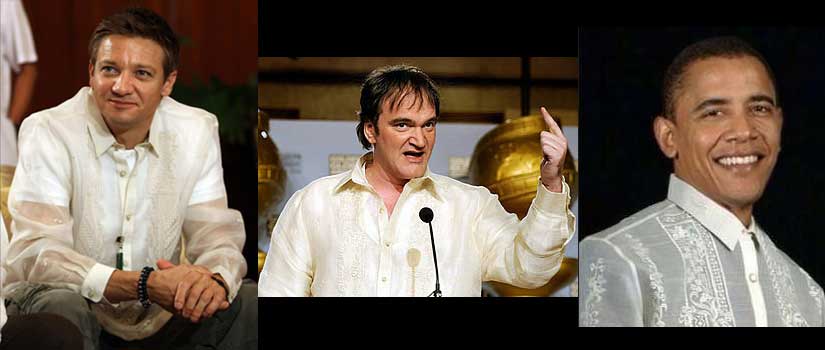 EPILOGUE: My husband thought that I left out the most famous non-Filipino to wear a barong, Quentin Tarantino. But there is a problem with Tarantino's high-profile debut of the garment at the 65th Annual Golden Globes Nomination ceremony in December 2007: he forgot the undershirt. And he left it unbuttoned at the collar, which made the lack of undershirt even worse. His general look of dishevelment did not help matters. As a result, many Filipinos felt he did not present the Tesoro barong at its best. (It was a gift by the Film Development Council of the Philippines, by the way, and Tesoro's made it in a day. The source is quick to add that Tarantino was, in fact, given an XXL undershirt.) At least the filmmaker wore it with genuine affection, and isn't that the most important thing?