Welcome to the Sugar Sun romance series. Books are listed below in reverse publication order, starting with the latest releases first. This series does not need to be read in order, and all are standalone happily-ever-afters. Full cover and author bio photos are at the bottom of this page.
---


Review of Sugar Moon, the brand new second full novel (Book Four) in the Sugar Sun series:
"So this book I was saving for the long weekend? Readers, I just finished it. WHY DID I READ IT SO FAST?…Pretty sure Allegra will be my favorite heroine this year." (★★★★★ review by Kat of BookThingo on Twitter and Goodreads)
"I cared intensely for Allegra (Allie), a young woman who knows what she wants but not how to get it, and Ben, who doesn't believe he deserves to have anything at all….Ben, a curmudgeon of an opium addict who I instantly disliked in Sugar Sun, is transformed through some sort of writerly witchcraft into a sympathetic character I couldn't help but root for."
(★★★★★ review by Alexa Rowan on Goodreads)
"Smart, engaging, and unspeakably naughty." (★★★★★ review on Amazon)
---
Reviews of Tempting Hymn, a novella (Book Three) in the Sugar Sun series:
"Reading this book feels like a spoon gliding through a custard dessert." (Phebe on Goodreads)
"Tempting Hymn manages to give adequate breathing room to the harsh historical realities of American colonial rule in the Philippines, while delivering a romance that is sweet, realistic and – above all – emotional….Hallock doesn't pull any punches in Tempting Hymn, with either the romance or the historical detail. She does her setting and her characters justice, delivering a story that is raw and unflinching, but never too dark, because it has an engaging and touching romance at its core. [And] all the sex scenes here are insanely hot, just like in Under a Sugar Sun." (Dani St. Clair, Romancing the Social Sciences)
"This novella does a hell of a lot of work between the lines. It's actually breathtaking." (Kat at BookThingo, posted on Twitter)
"The pairing here is American man/Filipino woman and that is a tricky, sensitive trope…but it's handled with deft and care. And dignity." (Mina V. Esguerra, author of Iris After the Incident, reviewed on Facebook)
"…the first love scene between Jonas and Rosa is a master class." (Bianca Mori, author of the Takedown trilogy, reviewed on Goodreads)
---
Reviews of Hotel Oriente, the Prequel Novella (Book Two) of the Sugar Sun series:
"The strength of this book, aside from the lyricism with which it describes Manila in what was arguably its heyday, is the intimacy between Della and Moss." (Five-star review from Kat at Book Thingo)
"…a stellar novella…[with] political intrigue, a sexy hard-working hero, and fascinating details about early 20th century Philippines. Her stories are beautifully-written and painstakingly-researched." (Penny Watson, author of A Taste of Heaven, reviewed on Goodreads)
---
Reviews of Under the Sugar Sun, the first novel (Book One) in the Sugar Sun series:
"If you're looking for a meaty historical romance that will transport you somewhere you've never been, Jennifer Hallock's books…are must-reads." (Courtney Milan, author of The Duchess War.)
"Intensely absorbing…the charged political climate of the day is drawn with refreshing nuance." (Laura Fahey, Historical Novel Society)
"Two pages in and I was utterly hooked. I sensed the voice of a confident writer and spied the shorelines of a diligently-researched world. I finished it this weekend, hungry for more." (Bea Pantoja, blogger)
"It will take me a few days to recover from reading Jennifer Hallock's beautifully written novel. It was vivid, funny, unflinching, poignant, and sexy…. I didn't want to say goodbye to Georgie and Javier." (Suzette de Borja, author of The Princess Finds Her Match, reviewed on Facebook)
"Oh my god this book!…And I'm usually not into the high-stakes romance because my heart doesn't want to handle it, but this guy…" (Mina V. Esguerra, author of Tempting Victoria).
"It's a perfect read for those who love their romance with a little more plot, and for history buffs who want to see a different perspective on the Philippines." (Carla de Guzman, Spot.ph on "10 Books That Will Take You Around the Philippines")
"…Under the Sugar Sun was also just a great romance, the kind that makes you feel squiffy in the stomach when you remember it at odd moments during the day…grand in scope in the same way old-school romances were, but with a very modern presentation of race, class and gender." (Dani St. Clair, Romancing the Social Sciences)
---
Author Bio:
Jennifer Hallock spends her days teaching history and her nights writing historical happily-ever-afters. She has lived and worked in the Philippines, but she currently writes at her little brick house on a New England homestead—kept company by her husband, a growing flock of chickens, and a mutt named Wile E.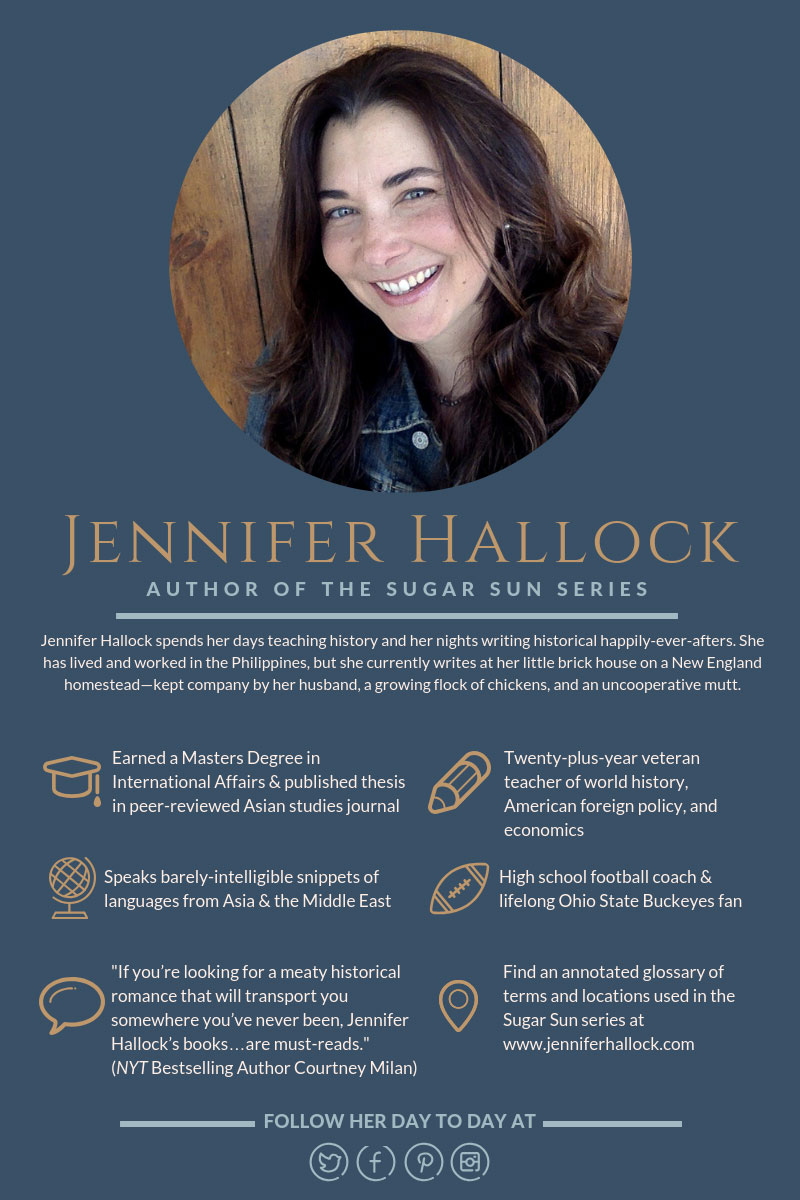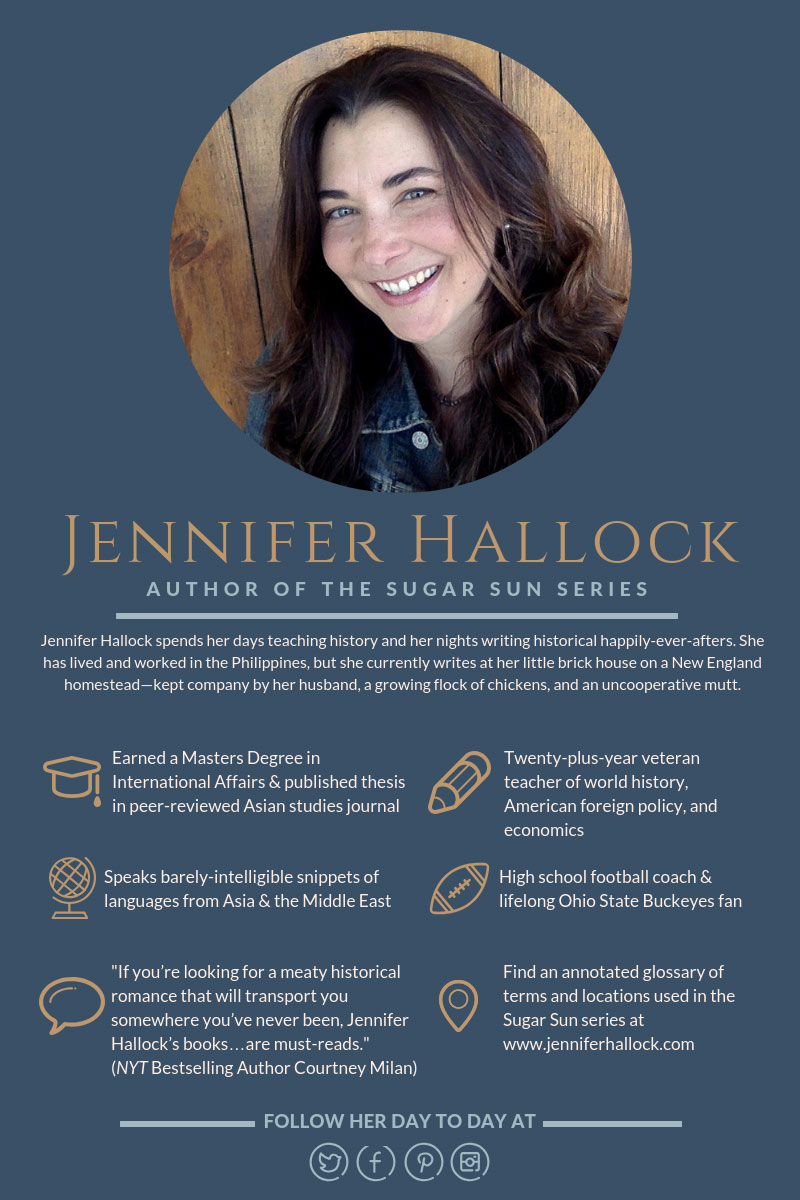 Author Details:
Jennifer is available for speaking engagements, interviews, and appearances. She is also happy to speak to reading and writing groups via telephone or Skype.
She presents on the history of America in the Philippines: How is a war you have never heard of more important than ever today?
She also presents to writers' groups on how to research effectively: The History Games: Using Real Events to Write the Best Fiction in Any Genre
Contact Info:
Jennifer Hallock — jen at jenniferhallock dot com
Mailing List — info at jenniferhallock dot com or http://bit.ly/sugarnewsletter
Twitter — @jen_hallock
Facebook — jenniferhallockbooks
Instagram — jen_hallock
Amazon author page — http://bit.ly/jenniferhallock
Photos:
Author photo: download here
Sugar Moon cover: download here
Tempting Hymn cover: download here
Hotel Oriente cover: download here
Under the Sugar Sun cover: download here